IMMEDIATE OPENING:
SUBSTITUTE ELEMENTARY PARAPROFESSIONAL FOR REMAINDER OF SCHOOL YEAR
Please click here for more information
PTA Cash Calendars are now for sale! Please help us to support this fantastic fundraising event.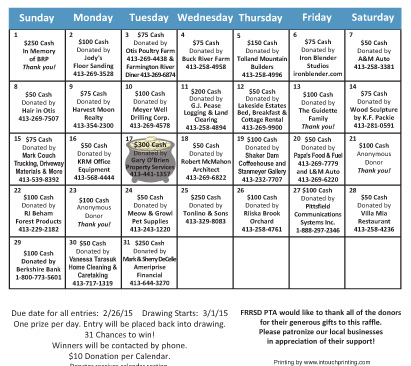 Farmington River was the recipient of a $3,000 grant benefiting the Kids' cafe as well as PE/Health. Kids' Cafe are now able to deliver cold breakfast to 4th, 5th, and 6th grade daily.They will be expanding their grab-n-go cart, as well as, adding 4 more cylinders for the smoothie machine.
Thank you to Kendra and Jenna for their hard work!


FRRSD Winter Reading Incentive
January 9-29, 2015
Our school wide reading incentive will begin soon! We will count all the minutes we read at home and at school to see if we can reach our goal. Our goal is: 150,000 minutes !!
So far we have read 50,008 minuets! 1/3 of the way there after 1 week of reading.

FARMINGTON RIVER REGIONAL SCHOOL DISTRICT
STATEMENT OF NON-DISCRIMINATION
The Farmington River Regional School District is an equal opportunity educational facility and employer and does not discriminate on the basis of race, color, religion, national origin, ancestry, sex, sexual orientation, gender, gender identity, physical or mental disability, marital or veteran status, or age.
Contact Information
555 North Main Rd., P.O. Box 679,
Otis, MA 01253
Telephone: 413-269-4466 Fax: 413- 269-7659