Families enjoy a hike with Mr. Keller during Screen Free Week!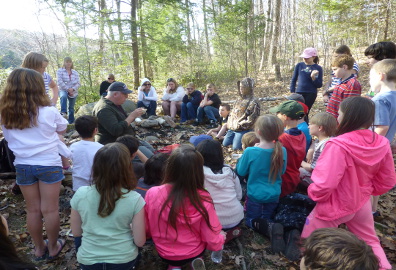 We are a Price Chopper Tools for Schools Top 100 Winning School
and won all of these great prizes including a $250. gift certificate!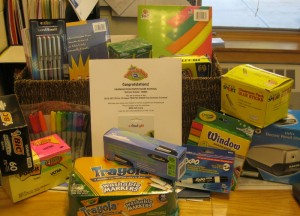 Thank you to everyone who participated to make this happen!
Dear Parents,
The schedule has been set for the upcoming Screen-Free Week, so please clear your plans for some fun events during this annual event that encourages children of all grade levels, their families, schools and communities to turn off screens and "turn on life."
The Farmington River PTO (thanks to this year's Fundraising results) has filled the week of April 29 to May 4 with indoor and outdoor activities. This letter is to give you a heads up on those activities! After Spring Break, we'll distribute detailed info; you will need to indicate which activities your family will attend. Some activities also will need signed permission from a parent or guardian. More later on that!
Monday, April 29, from 5-7 p.m.: Bingo Night at school with popcorn, pizza and salad. Family members and the Otis community are invited to this event, sponsored by the Otis Recreation Commission. (Free)
Tuesday, April 30: Storytime with Arts & Activity in Farmington River Elementary's Library for preschoolers to 2nd graders from 3:15 to 4:30 p.m. For the older children grades 3-6 and family members, there is a Hike with Mr. Keller at Upper Spectacle Pond in West Otis from 4-5:30 p.m. (Younger children can also hike but must be accompanied by a parent.) Snacks and drinks provided at both activities. (Free)
Wednesday, May 1, from 3-5 p.m.: Paint a Pillowcase through "Art Resist" in the school's cafeteria with Laura Catullo. Snacks and material provided. (Free)
Thursday, May 2, from 4:15-6:45 p.m.: Swimming at Berkshire South Community Center. Free for FR students, $5 for other family members, young and old. Lifeguard on site. Arrive to change at 4:15. The swim is from 4:30-5:30 p.m. and dinner, provided by the PTO and Price Chopper, is on site from 5:45 to 6:45 p.m. (Parents are encouraged to bring a dessert to share.)
Friday, May 3: Music by David Grover, with opening act The Highland (Richard Stanmeyer on trumpet, Konstantin's brother!) A community event at the Knox Trail Inn from 5:30-9 p.m. Buffet dinner, Farmington River students eat free; $12 for adults and $4 for other children.
Saturday, May 4: Ice Skating at Amelia Park in Westfield from 3-4:20 p.m., with pizza and dessert (provided by the PTO) during and after skating until 5.The ice rink has been rented out exclusively for FR families and their friends. Free admission. The only cost to you is the $2 skate rental, if needed.
What a week of fun! These awesome activities have been funded largely by the PTO, with help from the Otis Recreation Commission, the Otis Cultural Council, the Otis Library, Price Chopper and Knox Trail. A special THANK YOU to Mr. Keller and Ms. Catullo for giving their time towards these events. Sign-up forms/permission slips will go home with the children on Monday, April 22nd. Questions? Call Shanon Albee at 269-7566 or Anastasia Stanmeyer at 269-7416.
The PTO Board

Download the Kops and Kids 2013 flyer
Contact Information
555 North Main Rd., P.O. Box 679,
Otis, MA 01253
Telephone: 413-269-4466 Fax: 413- 269-7659