Green Eco Warriors Visit Farmington River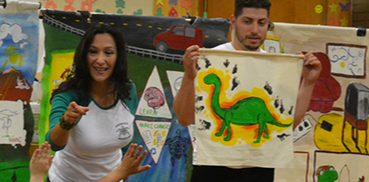 "You all can be Green Eco Warriors!" A powerful message brought to us by Western Mass Electric, Mass Save, and the Green Eco Warriors. Leticia Colon de Mejias President of the Green Eco Warriors taught that to be a Green Eco Warrior all you need to do is make small behavioral changes to better effect the planet and share your knowledge with others. This is the main theme of the Save Energy Save Dinero Challenge™ a program that consists of a live performance and fundraiser that 100% of the profits go directly to the school. The live performance engages students by using comical characters and student interaction. The program concludes with a pledge to be a Green Eco Warrior and each student receives a free book Dinero the Frog Learns to Save Energy.
New Parent Chaperone Guidelines and Fingerprint Notice. Please click the links below for more information.
Parent Chaperone Fingerprint Notice
FRRSD Chaperone Guidelines
School Committee Meeting – Monday, September 8th, Agenda
Farmington River Elementary PTA
Every Child One Voice
Join Today
FARMINGTON RIVER REGIONAL SCHOOL DISTRICT
STATEMENT OF NON-DISCRIMINATION
The Farmington River Regional School District is an equal opportunity educational facility and employer and does not discriminate on the basis of race, color, religion, national origin, ancestry, sex, sexual orientation, gender, gender identity, physical or mental disability, marital or veteran status, or age.
Contact Information
555 North Main Rd., P.O. Box 679,
Otis, MA 01253
Telephone: 413-269-4466 Fax: 413- 269-7659