BTG PLAYS! Came to Farmington River Elementary and presented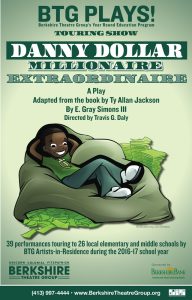 DANNY DOLLAR
MILLIONAIRE EXTRAORDINAIRE
A Play Adapted from the book by Ty Allan Jackson
By E. Gray Simons III
Directed by Travis G Daly
About Danny Dollar:
Danny Dollar, just your average Eastchester neighborhood kid! Good student Monday through Friday, basketball in the park with friends on Saturday, church with the family on Sunday, and puts up with his annoying older sister seven days a week. Just your ordinary kid, who also happens to have more odd jobs than you can count on two hands, who faithfully makes a trip to the bank every week to deposit his earnings into a savings account, and who's knowledge of high finance and entrepreneurial skill would likely earn him a job at any reputable, big-time investment firm. Yep, just your typical, every-day kid who aspires to be a millionaire by the time he's twenty-one years old! Only his grand ideas don't always go as planned, especially when Pablo and his gang are prowling the block. From his lemonade stand, to town hall, to a big company board room, it's all part of the average, ordinary, typical, every-day life of Danny Dollar, Millionaire Extraordinaire!

Nature's Classroom Slideshow



The Farmington River Regional School District is an equal opportunity educational facility and employer and does not discriminate on the basis of race, color, religion, national origin, ancestry, sex, sexual orientation, gender, gender identity, physical or mental disability, marital or veteran status, or age.
Contact Information
555 North Main Rd., P.O. Box 679, Otis, MA 01253
Telephone: 413-269-4466 Fax: 413- 269-7659